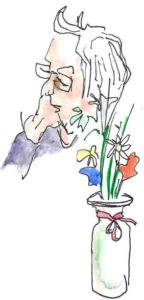 Saint Vincent's Nursing Home has our very own Artist-in-Residence. Check out her work at Humans of Saint Vincent's Nursing Home.
Susan MacLeod, in her volunteer role of Artist-in-Residence, is focusing on how to visually show Saint Vincent's as a compassionate, resident and family centred nursing home. Her series of sketches "Humans of Saint Vincent's" will aim to demonstrate how residents are human beings with a range of needs, wants, personalities and emotions, and to demonstrate how staff compassionately interact with residents daily despite the obstacles of budget and time constraints.
Susan has a Bachelor of Fine Arts from NSCAD University. She sits on the Community Relations Committee at SVNH and is interested in promoting the good reputation of SVNH. Susan is pursuing a Master of Fine Arts degree in Creative Nonfiction from the University of King's College. She is working towards creating a graphic novel describing the human side of system care in nursing homes.