At Saint Vincent's we encourage residents to maintain their independence as long as possible. Involvement in familiar activities and trying new things help residents. We also know family members play a key role in keeping residents happy and healthy. Varied activities, outings, and events are scheduled to try and reach as many residents as possible.
If you have any suggestions, please contact a member of the recreation staff or any member of your care team.
Newsletter
Welcome to Vinnie's Seasonal Scoop, a quarterly newsletter for connecting and communicating with our residents and family members. Copies are available in the main lobby and on the units. Click here for the latest issue. Enjoy the read!
Resident & Family Centred Care (RFCC)
"Person-centered care sees people receiving care as equal partners in planning, developing and assessing care to make sure it is appropriate for their needs. It involves putting clients/residents and their families at the heart of all decisions." (Saint Elizabeth A Practical Guide to Implementing Person Centered Care Education).
Care is organized around the person receiving care, and care providers, residents and their families are equal partners in the care delivery process, ensuring that the resident's needs and preferences are met.
RFCC is reflected in having therapeutic relationships with the residents: A trusting connection and rapport established between the healthcare provider and resident through collaboration. Communication, care provider empathy, mutual understanding and respect.  This is different from a friendship or personal relationships where both parties involved are benefiting from the relationship.
RFCC is more than meeting the resident's care needs or improving their health outcomes; it is about understanding the resident as a whole. This understanding is developed through the health care provider collaborating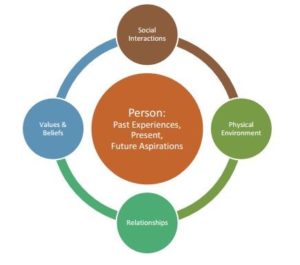 with the resident and family to learn about the resident's history, present and future goals, which are informed by his/her values and beliefs, place in the physical environment, relationships and social interactions in which he/she engages.  Resident and family centered care acknowledges each aspect of an individual, respects differences, and provides care based on the resident's needs, desires, and hopes for their future.
"An approach to care that guides all aspects of planning, delivery and evaluating services, with the foundation being mutually-beneficial partnerships between residents, families and service providers." (Adapted from Saskatchewan Ministry of Health 2011).
Continuous Quality Improvement
Saint Vincent's Nursing Home is committed to providing quality of life through compassionate and innovative care. We recognize the ability to do so through continuous quality improvement. As a collaborative team, the residents, families and staff are working together to advance the quality of care. By sharing data and fostering open discussions, we aim to improve outcomes for all residents living at Saint Vincent's.